Technology
WM AVR-2 ELITE Series
WM RM Series
Toroidal Isolation
Noise Filtering
High Instantaneous Current Capability
Series Mode Surge Suppression
Description
Torus Power Wall Mount (WM) Models provide great flexibility for custom installations, and new construction. Dedicated lines can be run to install the power outlets where needed. Select the appropriate power level – ratings of 45A, 60A, and 100A are available (90 Amp for AVR / AVR2 models).
Choose the WM model with the features needed; AVR-2 ELITE models for use with the Torus Power Connect remote power management system, AVR2 models for individually controlled outlets, AVR models for basic monitoring, and RM models for straight power conditioning and protection.
WM units are designed for 240V input. Units can also be supplied with 208V inputs for 3-phase systems. WM units are provided with 20A output breakers. Alternatively, WM units can be supplied with terminal blocks to enable direct feed to subpanel.
International Models of various voltages and frequencies can also be supplied.
For more information on the advantages of using 240 V balanced power, please visit the FAQ Page.
AVR-2 ELITE Features
AVR-2 added / enhanced Features
Toroidal Isolation provides ultimate clean power performance
Voltage regulated to 120V (+/- 4V). For 220V-240V input models the regulation is +/- 8V.
Automatic shutdown of outlet power on low and high input fault conditions
Series mode surge suppression protects against lighting, surges, spikes etc.
Connect to local network using Web page browser
Password control Email notification of fault conditions
No programming or internet connection needed
Larger LCD display provides power data and fault condition details (configurable to turn off or dim on timed basis)
Remote power management using Torus Power Connect
All features of the AVR Series
Powerful 32-bit processor
Internal Flash Memory for 10,000 events to record data when offline to Torus Power Connect
New separate high reliability power supply module to further isolate the low voltage and high voltage paths
Enhanced communication module including WiFi connectivity (used for Torus Power Connect operation and transparent update of firmware)
Optical isolation between high voltage and low voltage to increase safety and compliance to new standards
New circuit boards designed for high resolution audio performance
USB port for 3rd party connectivity, LED lighting, and charging
Individually addressable outlet zones for control and monitoring
Power-up sequencing with selectable delay time between zones
Scheduling features allows automatic control (on/off) of any outlet zone. Schedule remains active when internet connection is lost, if system power maintained
Schedule up to 6 events per day per zone
Automatic reboot feature allows remote restart of routers and modems if internet connection lost
AVR / AVR2 ELITE Operation Modes
Simplest: Stand-alone. Plug and play. No internet or internet connectivity required.

Local Network: Web browser. Set up, monitor and control on mobile devices, tablets, or computers on local network using AVR's built-in web browser interface. Hard-wired network connection required.

Cloud Connection: Torus Power Connect. Built-in WiFi allows connection to Torus Power Connect cloud-based website for remote power management.

​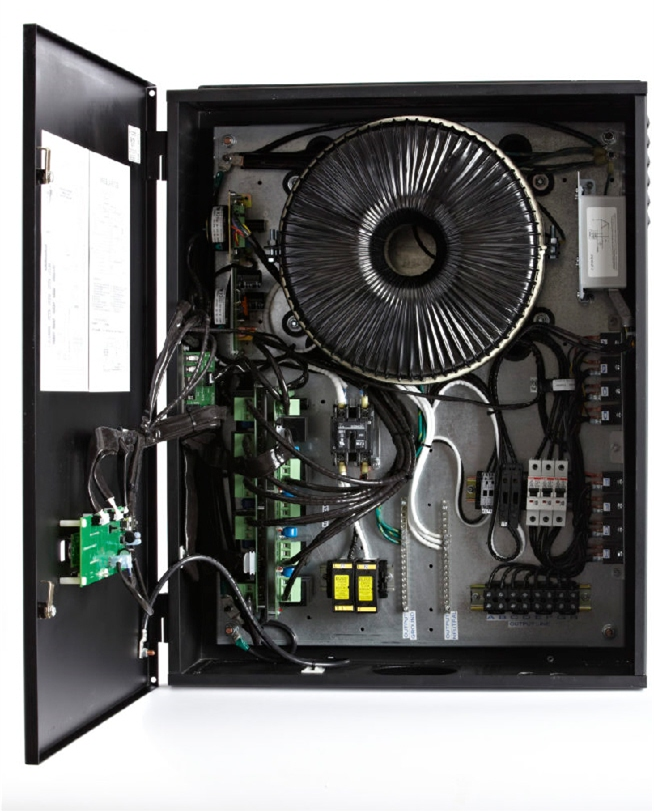 International Series
MODEL

WM 30 AVR-2 ELITE

TVSS Added

WM 45 AVR-2 ELITE

TVSS Added

CHASSIS
Wall Mount
INPUT VOLTAGE
170 – 270 VAC
OUTPUT VOLTAGE
120
INPUT CURRENT LIMITING
2 X 15 A (F)
5 x 15 A (F)
OUTPUT CURRENT (A)
30
45
POWER RATING (VA)
6900
10350
FREQUENCY (Hz)
50 or 60 Hz
SURGE SUPPRESSION
SMSS
SMSS & TVSS
SMSS
SMSS & TVSS
WEIGHT (LBS)
84
85
132
133
WEIGHT (KG)
184.8
187
290.4
292.6
SIZE ( W D H) IN
24.7 X 10.3 X 32.5
SIZE (W D H) CM
62.7 X 26.1 X 82.6
All models supplied with SMSS (Series Mode Surge Suppression), as well as Output Control Relays. TVSS is available on all models. Some models include Output Controlled Relays..
More Wall Mount Series Information
All WM Series models are available with a Transient Voltage Surge Suppression (TVSS) device built into its signal path. The UL certified panel TVSS responds in under 5 nano-seconds and manages surges up to 80,000 Amps. The TVSS also offers additional noise filtration of EMI and RFI (40 dB typical).
Balanced Inputs Input Voltage also available at 208V for BAL products feeding from a 3 phase system. Balanced Power input current is drawn at one half the output current capacities. Balanced power input wiring should be installed by a qualified electrician.