Smart Ethernet & Custom Control
About Smart Ethernet & Custom Control
The AVR and AVR2 series uses a micro-processor to monitor and control the power provided to connected components. The front panel display on the Torus Power AVR and AVR2 indicates input and output voltages, and displays output current, as well as displaying fault conditions.
The Torus Power AVR and AVR2 is pre-programmed to power down the system when a high or low fault conditions occurs (user can over-ride). While the AVR has built-in software that can be accessed via the Ethernet connection, there is no need for you to use this software. The AVR system provides all the standard features, performance, and benefits out – of – the – box by simply plugging it in as described in this section.
You can use the AVR software to monitor the voltage conditions via your computer, and for such additional features as being able to turn your system on/off remotely and change the duration of the display's backlight.
Smart Ethernet (AVR & AVR2 Models)

IP addressable with built-in web browser interface – allows remote monitoring and control
Password protection control
Automatic email notification on fault condition
RS-232 control — compatible with Crestron and other control systems
Switch-On Safety Delay (5 seconds) when power turned on / restored
Cloud based monitoring and control through Ihiji, and other systems
Front panel display shows voltage conditions (input / output voltage), current draw, and IP address
Custom Control (AVR2 Models)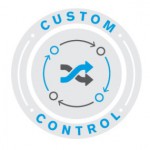 All features of the AVR Series
Individually addressable outlet zones – 4 zones for 15A and 20A models; 7 zones for 45A, 60A, 75A to 90A models
Power-up sequencing with selectable delay time between zones
Scheduling features allows automatic control (on/off) of any outlet zone
Schedule up to 6 events per day per zone
Automatic reboot feature allows remote restart of routers and modems if internet connection lost
Schedule remains active when internet connection is lost, if system power maintained
AVR and AVR2 Rear Panel Connections
Ethernet – Allows access to the AVR and internal software.
RS232 – Allows access to automation and external control. See Home Automation Interface commands at
end of manual.
12VDC Trigger On/Off – The AVR can be turned on and off by a 12 volt trigger input. Applying 12 volts turns on the AVR and removing the 12 volts turns it off.
12VDC Fault Output – The AVR provides a 12 volt fault output through a jack on the back panel. The output goes to 12 volts when a relay or voltage fault is detected. The maximum current that can be drawn from this output is 75mA.
AVR Software – AVR software is resident in the microprocessor on the internal control board. methods to access the software.