NORTH AMERICAN Torus Power PRODUCTS
RM SERIES power transformer
Technology
Toroidal Isolation

Noise Filtering

High Instantaneous Current Capability

Lightning and Surge Protection
Description
The original Torus Power models in the RM series remain unparalleled for performance, protection, and value, with models from 15 Amp to 100 Amp.
A popular model in the RM series is the RM 20, which has been consistently top-rated by leading audiophile magazines. Torus Powers power isolation units (PIUS) combine search suppression with massive toroidal transformers to provide AC power conditioning and protection from voltage surges.
The RM 20 uses a single 2400 VA toroidal transformer to supply 120V at 20A to the 10 AC outlets on its rear panel. It has a 20 a circuit breaker for its on off switch and uses a 14 AWG detachable AC cord rated at 15 amp/125V. "The PIU greatly enhances subtle details of tone, timber, and imaging when dynamics were extreme or the volume was loud", and is a recommended component of Stereophile magazine.
Smaller models (such as RM 15) are ideal for mid-size systems, while the RM5 can be dedicated to front-end components, media servers, etc. Larger custom installation models rated 60 Amp and 100 Amp balanced input provide clean, protected power for the largest custom installed systems. Many Torus Power models feature Balanced 240V input. This configuration provides additional noise cancellation as the two input phases are 180 degrees out of phase from each other.
Torus Power RM, AVR, and AVR2 series models use extra heavy duty medical grade outlets custom manufactured by Hubbell. These outlets provide greater contact force, reduced heat buildup, and redundant grounding, and are vastly superior to commercial grade outlets. Torus Power 15 Amp & 20 Amp Outlets are available for purchase.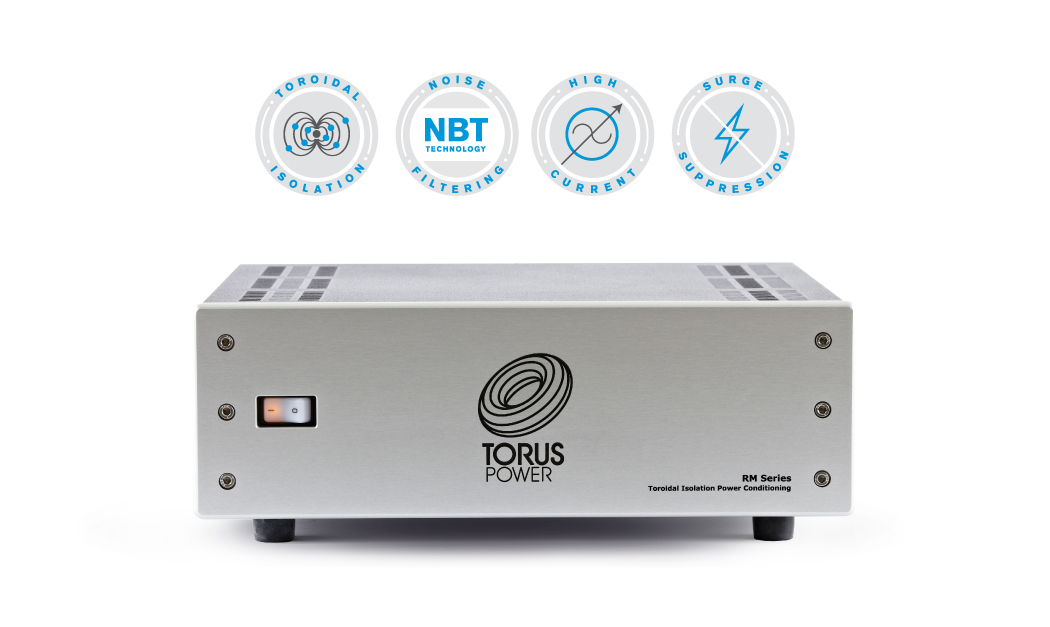 MODEL
RM 15
RM 20
FACEPLATE
19 " RACK MOUNT (RK), 17″ SILVER (CS), 17″ BLACK (CB)
CHASSIS
2U
3U
INPUT V
120 VAC
OUTPUT VOLTS
120 VAC
INPUT CURRENT LIMITING **
1 X 15A (C)
1 X 20A (F)
OUTPUT CURRENT
15A
20A
POWER VA
1,800
2,400
FREQUENCY
60 Hz
NO. OUTLETS
10
INLET TYPE
IEC 15A
IEC 20A
WEIGHT LB
46
88
WEIGHT KG
20.9
40
SIZE MM WxDxH
483 X 287 X 102
483 X 419 X 159
SIZE IN WxDxH
19 X 11.3 X 4
19 X 16.5 X 6.3
** (F) – Fuse (C) – Circuit Breaker
MODEL
RM 20 BAL
RM 40 BAL
RM 60 BAL
RM 100 BAL
FACEPLATE

1

9 " RACK MOUNT (RK), 17″ SILVER (CS), 17″ BLACK (CB)
CHASSIS
3U
4U
4U
5U
INPUT V
240 VAC
OUTPUT VOLTS
120 VAC
INPUT FUSE
1 X 10A
2 X 20A
2 X 30A
2 X 50A
OUTPUT CURRENT
20A
40A
60A
100A
POWER VA
2,400
4,800
7,200
12,000
FREQUENCY
60 Hz
NO. OUTLETS
10
12
24
INLET TYPE
IEC 20A
IEC20A
TWIST LOCK 30A, 250V
TWIST LOCK 50A, 250V
WEIGHT LB
88
121
155
216
WEIGHT KG
40
55
70.5
98
SIZE MM W X D X H
483 X 419 X 159
483 X 483 X 203
483 X 559 X 249
SIZE IN W X D X H
19 X 16.8 X 6.3
19 X 19 X 8
19 X 22 X 9.8
Input Voltage also available at 208V for BAL products feeding from a 3 phase system. Balanced Power input current is drawn at one half the output current capacities. Balanced input wiring should be installed by a qualified electrician.