CEDIA US Expo 2011 – Torus Power standard features include: complete electrical isolation using toroidal transformers, noise filtration, surge suppression, and voltage reduction.
Torus Power products are divided into two main categories: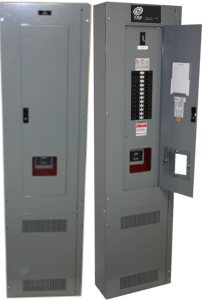 Torus Power's Custom Installation Series have become a staple component for high end audio video custom integration systems. Torus Power Transformers utilize Toroidal Isolation transformers and provide lower impedance than what is available directly from the wall outlet. Low source impedance provides high levels of instantaneous power to an audio video system when it's needed most, significantly improving performance and protecting all connected equipment.
Torus Power also provides electrical isolation through the use of a Plitron Toroidal Isolation transformer, providing noise filtration using Plitron's proprietary Narrow Band Technology (NBT), and surge suppression using completely non-sacrificial Series Mode Surge Suppression technology. Torus Power also offers Automatic Voltage Regulation (AVR) which keeps the output voltage at 120V +/-5V and is optional on 15A, 20A and 60A models.
Torus Power products are divided into two main categories:
Torus Power's Custom Installation Series is becoming the standard for high end audio video power applications. With an input of 240V and an output of 120V, the custom installation series is available in 20A, 60A and 100A output capacities in rack mount, wall mount or consumer series format and requires installation by a CEDIA certified installer or electrician. Price points from $3000 to $24,000.
Torus Power's Single Phase Series, identical in performance and quality to the Custom Installation Series, has 120V input and output, and plugs directly into any standard North American outlet and is plug-and-play ready. The Single Phase series is available in 2.5A, 5A, 10A, 15A and 20A output capacities with rack mount or consumer series faceplates. Price points from $1100 to $4000.
Torus Power Introduces New Products at CEDIA
WM 60 BAL AVR – Torus Power brought voltage regulation and IP addressable monitoring and control to its 60A wall mount and rack mount audio video Power Transformers. The WM 60 BAL AVR is fully loaded and ideal for any audio video system rack. It joins the existing line of Torus Power products, rated from 2.5A all the way up to 290A.
All in One (AIO) Panel Board – The AIO is a comprehensive industrial grade electrical panel that provides full Torus Power conditioning, and includes 24 x 20A bolt-in breakers running along all copper 1.25" x 0.25" buss bars. The AIO comes in three different power ratings: 12.5 kVA , 7.5 kVA, and 5kVA
25kVA and 35kVA Isolation Transformers – Torus Power is pleased to offer large scale audio video power solutions with its 25kVA and 35kVA Toroidal Isolation transformers. Weighing 625 lbs. (~284 kg) and 725 lbs. (~330 kg) respectively,
25kVA Isolation Transformer (100A at 240V or 2x120V)
35kVA Isolation Transformer (145A at 240V or 2x120V)