FOR IMMEDIATE RELEASE | DOWNLOAD IMAGES HERE | HIGH-END Munich Hall 1, Booth A18
Torus Power presents the AVR and RM Series Toroidal Isolation transformers, delivering clean, uninterrupted power and improved performance quality for today's high-resolution AV systems
Toronto, ON, Canada (May 6, 2019) Torus Power, maker of uncompromising, clean, isolation-transformer-based power components, will showcase its AVR and RM Series Toroidal Isolation transformers in Hall 1, AV EMEA Booth A 18 at HIGH-END Munich, the International Hi-Fi Show, Germany May 9 – 12, 2019.
Presented by the High-End Society, HIGH-END Munich brings together AV integrators, trade professionals, manufacturers, and consumers to showcase and experience the best in audiovisual technology for residential and consumer applications.
There, the AV EMEA team will present the Torus Power RM 8 / 16 CE, and AVR 8 / 16 CE, demonstrating the benefits of isolation transformers in two-channel listening environments, media rooms, home theaters, recording studios and anywhere that performance matters. With the proliferation of high-resolution audio and 4K video content, every component in a system should be designed and specified to elicit the maximum performance for an exemplary, immersive media experience. Torus Power provides these systems both the power and protection they need to perform optimally.
Not to be confused with standard Power Transformers or surge protectors, Torus Power Toroidal Isolation power transformers decouple electronic components from the power source to eliminate transients and improve audio quality by dramatically lowering the noise floor while adding better dynamics, imaging, and bass. Video is noticeably crisper with brighter colors, deeper blacks, better contrast, and a more captivating overall image. Connected components are additionally protected from surges, spikes, and brownouts, ensuring systems continue to perform as intended despite unstable power conditions often caused by a variable grid.
RM Series Ideal for Luxury Residential AV Applications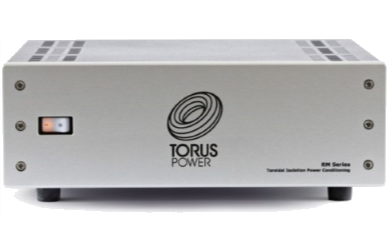 Ideal for high-end audio systems, home theaters, and media rooms, the original Torus Power models in the RM series lineup, including the popular RM 16 CE, remain unparalleled for performance, protection, and value. Packed with Torus Power's renowned and category-leading technology, including noise filtering, high-instantaneous current capability, lightning, and surge protection, the RM 16 CE delivers power and protection suitable for most residential applications. The smaller RM 8 CE is ideal for use in mid-size and smaller systems.
AVR Series Provides Optimal Protection Against a Variable Grid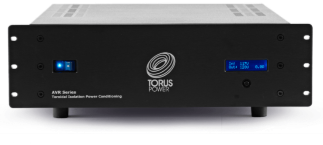 The Torus Power AVR Series, including the AVR 8 CE and AVR 16 CE, offer Torus Power's Automatic Voltage Regulation technology to protect equipment from surges, spikes, brownouts, and other events caused by a variable grid. They also deliver a stable source of power regardless of outside line conditions for the very best AV performance. Connected equipment is kept within the optimal operating range of 170V–270V. Ethernet connectivity and an RS232 interface make AVR models ideal for basic home monitoring applications.
To better understand the difference clean, uninterrupted power can make in AV systems and learn why so many rely on Torus Power to maximize and protect their AV gear, visit Torus Power in the AV EMEA booth at HIGH-END Munich, in Hall 1, Booth A18.
For more information about Torus Power, visit www.toruspower.com and follow Torus Power on Twitter and Facebook.
About Torus Power
Toroidal Isolation power transformers by Torus Power are the world's finest clean power source for audio, video, and control systems. Dramatically increasing performance levels of connected AV components from video displays to amplifiers and powered speakers, Torus Power products utilize Plitron Manufacturing's patented NBT technologies and medical-grade Toroidal Isolation transformers to eliminate virtually all power-line noise artifacts and protect equipment from potentially damaging AC power line events while increasing system reliability and extending product life. Torus Power products deliver higher levels of instantaneous current which ensures that dynamic components and high-performance systems are never compromised, nor starved for power.
Built to rigorous specifications under Plitron Manufacturing's ISO 9001 quality control system in Toronto, Canada, Torus Power's toroidal transformers—the heart of the Torus Power product line—utilize similar technologies as those found in leading AV amplifiers as well as in industrial, medical, broadcast, telecommunications, IT, power conditioning, and energy management applications. For additional information visit www.toruspower.com and follow Torus Power on Twitter and Facebook.
All products, product names, trademarks, and registrations mentioned are the property of their respective owners, all rights reserved.
Media Contact
For interviews or reviews please contact Katye (McGregor) Bennett of KMB Communications by phoning (425) 328-8640 or emailing katye@kmbcomm.com.
# # #