North American Products
PowerBlock
Technology
Toroidal Isolation
Noise Filtering
High Instantaneous Current Capability
Lightning and Surge Protection
Description
The new Torus PowerBlock series is Toroidal Isolation transformers with compact footprints and rugged construction.
There are 2 models for North America –
PB 5: Suitable for compact systems, source components, TVs or projectors
PB 10: Suitable for mid-power AV systems, featuring isolation between outlet pairs
Torus PowerBlock PB 5 and PB 10 are ultra compact and portable Toroidal Isolation Power Transformers, and the most affordable products in the Torus line-up.
The compact footprint and rugged construction of PowerBlock models make them convenient for use in almost any situation. They look sharp on or near a component shelf, on any floor surface or can be located elsewhere when space is at a premium.
Torus PowerBlock PB 5 & PB 10 models come with a replaceable fast acting fuse 5mm x 20mm on the input side of the unit.
Torus PowerBlock models will shutdown if the internal unit temperature reaches excessive levels.
Contact Torus Power for special mounting requirements. PowerBlock models provide basic circuit protection with Transient Voltage Surge Suppression (TVSS).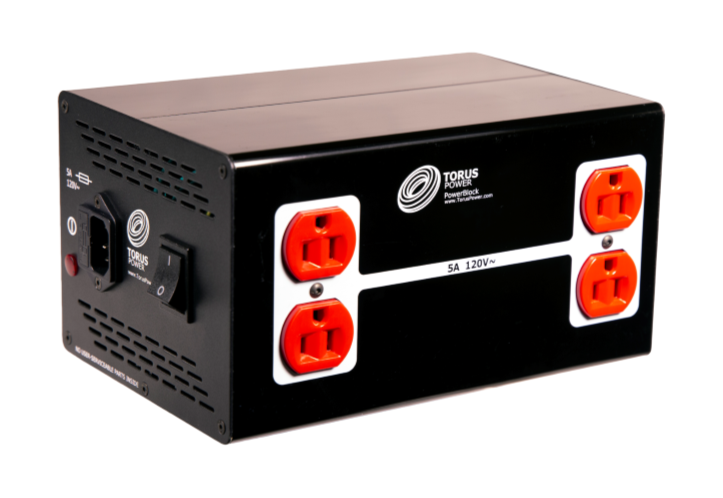 MODEL
PB 5
PB 10
INPUT VOLTAGE
120V
OUTPUT VOLTAGE
120V
INPUT PROTECTION
1 X 5A FUSE
1 X 10A FUSE
OUTPUT CURRENT
5A
10A
POWER RATING
600VA
2 X 600VA
FREQUENCY
60 Hz
NO OF OUTLETS
2 Duplex
4 Duplex
INLET TYPE
IEC 10A
OUTPUT TYPE
NEMA 5-15R
WEIGHT (KG)
10
16
WEIGHT (LB)
22
35
SIZE MM W X D X H
152 X 125 X 232
152 X 125 X 424
SIZE IN W X D X H
6 X 4.9 X 9.2
6 X 4.9 X 16.7
More North American Torus Power Products