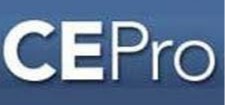 Torus Power's $4,495 AVR 20 power transformer uses a toroidal transformer to isolate the current, reduce the noise and suppress surges for large multi-rack
By Jason Knott, September 19, 2014 – Torus Power's Kevin Main says the two best ways to demo a high-end power protection device are to conduct a demo and point out the audible difference from filtering the noise, and to conduct a week-liong power analysis audit of the home to produce a report on the surges and spikes.
With lots of new power conditioning products hitting the market these days, Torus Power is decidedly staying focused on performance and the high-end of the voltage regulation and surge suppression power protection market.
At CEDIA Expo 2014, director of sales and marketing Kevin Main showed off the company's over-sized AVR2 Series with Toroidal Isolation transformers that offer high instantaneous current capacity, automatic voltage regulation, noise filtering and surge suppression in a single unit.
The AVR2 Series has several versions, but Main was mainly (pun intended) running through the features of the AVR 20, which sits in a 3U 19 (W) x 22 (D) x 6.3 (H)-inch (black) rack mount chassis and offers input and output voltages on 120V. Other features of the 95-pound unit include a power rating of 2400VA, output current rating of 20A and 10 outlets.
He particularly highlighted the instantaneous current feature of the AVR 20.
The unit provides very low source impedance to connected devices, enabling high current delivery on an instantaneous basis. This ensures components are not starved for power.
For example, a typical 200W audio amplifier demands 10A RMS current from a 120V line but may demand up to 50A instantaneous peaks. Standard residential wiring and wall receptacles will restrict the available instantaneous current. The power transformer can deliver 300A or 400A peaks when the system demands it, allowing the amplifier to deliver improved performance and dynamics without strain.
"It maintains voltage between 115V and 125V.
That consistency lengthens the life of all equipment," says Main. "For surge suppression, it dissipates spikes and surges instead of using MOV technology."
For integrators, it is a time-saver because it can save truck rolls. It can auto reboot the home's network router, and it can be programmed to turn on all the equipment in a certain order to eliminate the risk of internal spikes from the home theater equipment.
 How to Sell High-End Power Transformers
Main says there are two effective ways to sell the AVR 20, which has an MSRP of $4,495. First, do a demo. Main says the noise filtering capabilities noticeably improve the bass soundstage in a room.
"With the home theater equipment connected through the unit, there is better resonance in vocals, a more pointed soundstage. You can hear guitar picks in a song that you have never heard before," he adds.
But even though audio improvement is a byproduct of the AVR2 Series, Main is quick to point out that the unit is aimed at larger systems that often require multiple equipment racks for home theaters and control networks, often with a generator in place, not necessarily single-purpose listening areas for audiophiles. That brings us to his second tip for selling power conditioning: Conduct a power analysis of the home for one week.
Main notes that consumers will be shocked and dismayed to see a report on how many spikes and surges there are affecting their networks. Those fluctuations call for a unit like the AVR2 20.