By now you know which components comprise TWBAS 2012, which means it's time for me to tell you why I chose them. This is the potentially controversial part — the part where you learn about my decision-making process, and what differentiates these products from the pack.
But before I tell you why I chose each particular product, I should tell you what criteria I baTWBAS 2012sed my choices on. You've likely already figured this out, but I did not hear even one of them beforehand — many were still in the R&D phase when I chose them. I don't suggest you buy your state-of-the-art stereo system this way, but the unknown is part of what makes TWBAS 2012 so exciting — like diving from the top of a skyscraper in a wingsuit.
Never fear, though, there was some solid reasoning behind the selection process. Past behavior is the best predictor of future performance, so I leaned very hard toward companies that make products I've had good experiences with in the past. This helped me establish leads more than it ruled out anything in particular. But if something had impressed me in my system, it only made sense to look into that company's newest, most ambitious offerings. Second, I considered companies' track records and overall reputations for designing and building exceptional audio gear, even if I had no direct experience of that company's products in my listening room. But I didn't rely only on "big" names — some newcomers are doing important work, and in this small industry we call the high end, it's important to pay attention to the buzz they create. Third, I examined hundreds of products in the abstract: specs, design briefs, white papers, and websites, followed up with many phone calls and e-mails. This research helped me significantly narrow down the list of potential candidates. But finally, what helped me make the final calls was my gut: call it audiophile intuition.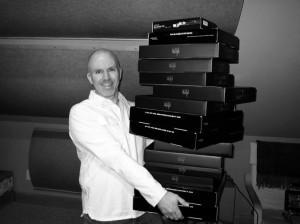 Esoteric D-02 DAC and P-02 SACD/CD Transport: The Esoteric combo was an easy choice — a pairing that made sense on many levels. I don't think anyone will dispute Esoteric's superiority in designing and manufacturing disc transports, and I did want TWBAS 2012 to include an SACD/CD player. Esoteric's VRDS transport platform is always being refined, and my understanding is that the version in the P-02 is the best yet. The choice of DAC could have gone in several directions. I knew from firsthand experience that products from Weiss and dCS are eminently worthy of consideration, and other brands, such as Playback Designs and EMM Labs, came highly recommended. In the end, I chose the D-02 DAC because of how ambitious it seemed when compared to others; for instance, its inclusion of eight DAC chipsets per channel, yielding 35-bit processing, is unique. Then there was the natural synergy with the P-02 to consider. The fanatical attention Esoteric paid to the various digital inputs also promised good compatibility with the WideaLab music server.
2L 2L-TWBAS 2012 Sampler: For our first www.SoundStageRecordings.com music release, it was important to offer readers of my TWBAS column music of the highest recording quality imaginable. We've all heard of download companies that rip SACDs and DVD-Audios and offer the result as high-resolution downloads for sale, sometimes at steep prices. How do you know what you're really getting when you hit the Download button? I needed assurance. I know that Morten Lindberg, of the 2L recording company, personally monitors the recording chain for each of his releases. He oversaw the mastering of this sampler, and delivered the links to me personally. If you buy the highest-resolution version of the 2L-TWBAS 2012 Sampler, you'll basically be getting the closest thing to the "master" copy of the recorded music available. I figured this would be the perfect test material for TWBAS 2012 — and I hope you'll find that it reveals more about your own audio system.
WideaLab Aurender S10 Music Server: Here's the newcomer. Who would have thought that a brand-new company could produce the most refined music server in the world? Wouldn't you have placed your bet on, say, a company that's been making CD players for the past 20 years? Well, apparently, new blood and out-of-the-box thinking are needed to seriously tackle this genre of product, which, until now, seemed more home brew than high end. The buzz around the 2011 Rocky Mountain Audio Fest was that the Aurender S10 had impressed some hard-to-inspire folks. I talked with one manufacturer of CD players — good ones — who was buying an Aurender S10 for his own use. When I began researching the Aurender S10 and learned that it's the result of a large R&D program, and that key subcomponents such as its soundcard were developed from the ground up, I realized that I'd found a mature music server worthy of TWBAS 2012.
Vitus Audio Masterpiece MP-L201 Preamplifier and Masterpiece MP-M201 Monoblock Amplifiers: My history with Vitus Audio goes back a ways. I remember speaking with Hans-Ole Vitus at the 2004 Consumer Electronics Show, when he released the SM-100 monoblock amplifiers. Even then he had a clear idea of what he wanted to accomplish in terms of his products' sound and growing his business. Eight years later, Vitus Audio has an incredibly well-regarded product line packed with models at many different price points. Reviewing the SS-101 in 2007 made me a believer: that integrated amplifier drove my Rockport Technologies Altair loudspeakers to perfection. Still, TWBAS is the most ambitious of projects, and there are some mighty worthy contenders out there — I considered many amplifiers and preamplifiers. But an exchange of e-mails with Vitus revealed that he was developing a new flagship monoblock to pair with his Masterpiece MP-L201 preamplifier. This new amp, the MP-M201, would be unique in that it's actually a biamplifier with one input and two outputs — it sends 100W to the mids/highs and 500W to the bass. Still, it was what Hans-Ole told me in another e-mail that sealed it for me: he was developing the MP-M201 to be his own personal last set of amps. Voilà! It was at that point that I knew that it would be the best fit for TWBAS 2012. Hans-Ole Vitus's personal stake in the MP-M201 went beyond its being just another product to add to his already full line. And that was that.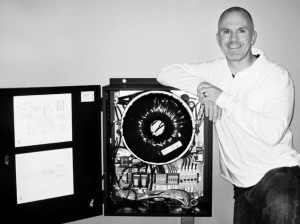 Torus Power WM100 BAL and RM 20 AVR Power Transformers: When I learned of Torus Power and their power-conditioning products, I was intrigued. The company is a subsidiary of Plitron, which makes some of the best toroidal power transformers in the world — they know about all aspects of power. Their WM100 BAL on-wall, transformer-based power transformer is like your own personal power station — a fundamental approach to the problem of dirty power that makes most other conditioners seem like Band-Aids. I write this just hours after installing the WM100 in my Music Vault listening room, and I can tell you that it is one serious piece of machinery. Of course, we're also using the RM 20 AVR for the source components — overkill for sure, but this is TWBAS . . . so why not? The choice of Torus products was a foundational step in assembling TWBAS 2012. If you're going all out, look to these guys at the start of your personal process, no matter how ambitious a system you're assembling.
Silent Running Audio Scuttle3 isoRack and Virginia-Class isoBase: I contacted Silent Running Audio to inquire about their Craz rack system near the beginning of the selection process for TWBAS 2012. After all, the Craz is their flagship product. But Tim Miller, an SRA engineer who doubles as the company's marketing guru, let me know that he and SRA founder Kevin Tellekamp were in the prototyping stage of the new Scuttle3, and that it was doing some amazing things in their listening room. In fact, he hinted that it might make the flagship Craz2 obsolete — it would cost only half as much, and if it could at least equal their previous best effort, they knew they had a groundbreaking new product. Given SRA's stellar reputation in the field of racks and isolation stands, that was all I needed to invite them aboard — so long as they could get me a finished Scuttle3. Done deal, I was told. So you see, it's not all about the most expensive products — the key is performance.
AudioQuest WEL Signature Interconnects, Speaker Cables, and AC Power Cords: Part of my reasoning for picking AudioQuest for TWBAS's cabling needs was the hearty recommendation of SoundStage! 201203_opinion_aqNetwork colleague Peter Roth, who uses AQ cabling in his own reference-level audio system. Another part was my very positive experiences using some of AudioQuest's lesser-priced models in my own rig. And lastly, I knew that AQ is a large company that still caters to the audiophile market — it's their roots, so to speak — and this gives them the potential advantage of coupling significant R&D resources and manufacturing capability to a passion for producing something exceptional for a small number of audiophiles. More often than not, that's a winning combination. And when I found out that the Magico Q7 speakers are internally wired with solid-core cables, I saw the potential synergy of using AQ's solid-core cables in TWBAS 2012. Solid core all 'round!
Magico Q7 Loudspeakers: A lot of loudspeakers sound good. It's actually not that complicated to get competent sound from several nice Scan-Speak drivers in a solidly constructed cabinet. But is any result of that formula — one we've seen over and over — really worthy of being considered among the best? I see a vast gulf between the cutting-edge and the mundane cost-no-object loudspeakers on the market today, and I knew I needed the former. Another observation: I saw a comment on a message board about the development of a cost-no-object loudspeaker in which the designer chose to omit from consideration a drive-unit with a particular diaphragm material strictly because of its low sensitivity. I found the comment odd. If this is a loudspeaker manufacturer, why not just engineer and manufacture a higher-sensitivity drive-unit, if that's the problem? Ah, there's the rub: some companies can't do that. But a company like Magico can, and did just that for their flagship, the Q7. Each driver was designed by Magico to have essentially the same high sensitivity, so that the final result would be a 94dB-sensitive, four-way, sealed-box loudspeaker. Having the capability to engineer the entire product from the ground up is what separates edge-of-the-art speaker makers from glorified kit builders. And I'd already spent time with the Magico Q3 and loved the sound of it in my room — so choosing the Q7 for TWBAS 2012 was a no-brainer. Once I'd learned it was in development, wrapped my head around the engineering resources that would be brought to bear in its creation, and comprehended Magico's sonic goals for it, there was no other choice.
Here we go . . .
Ultimately, I know that my process for choosing the components that make up TWBAS 2012 is flawed. I would love to take six months, hire two or three setup guys, have shipped to me from around the globe the top five or six flagship speakers, the ten or so flagship power amplifiers, the 15 best source components, and every permutation of extreme cable and isolation system, and hire an expert listening panel to help me sort through it all. But that's just not reality, and we all know it.
I've loved the ultra-high end for many years. Like you, I've had systems come and go, I've coveted equipment I couldn't get, and I've dreamed of that perfect component for me. TWBAS 2012 is for me pure adrenalin: no limitations on cost, and no logistical concerns beyond being able to fit it into my Music Vault.
Flawed, yes. But beautifully so.
The virtual assembly of TWBAS 2012 is complete. All that's left is to put it all together for real. And then listen to it. . . . Jeff Fritz ajeff@soundstagenetwork.com