Extremely well designed both inside and out.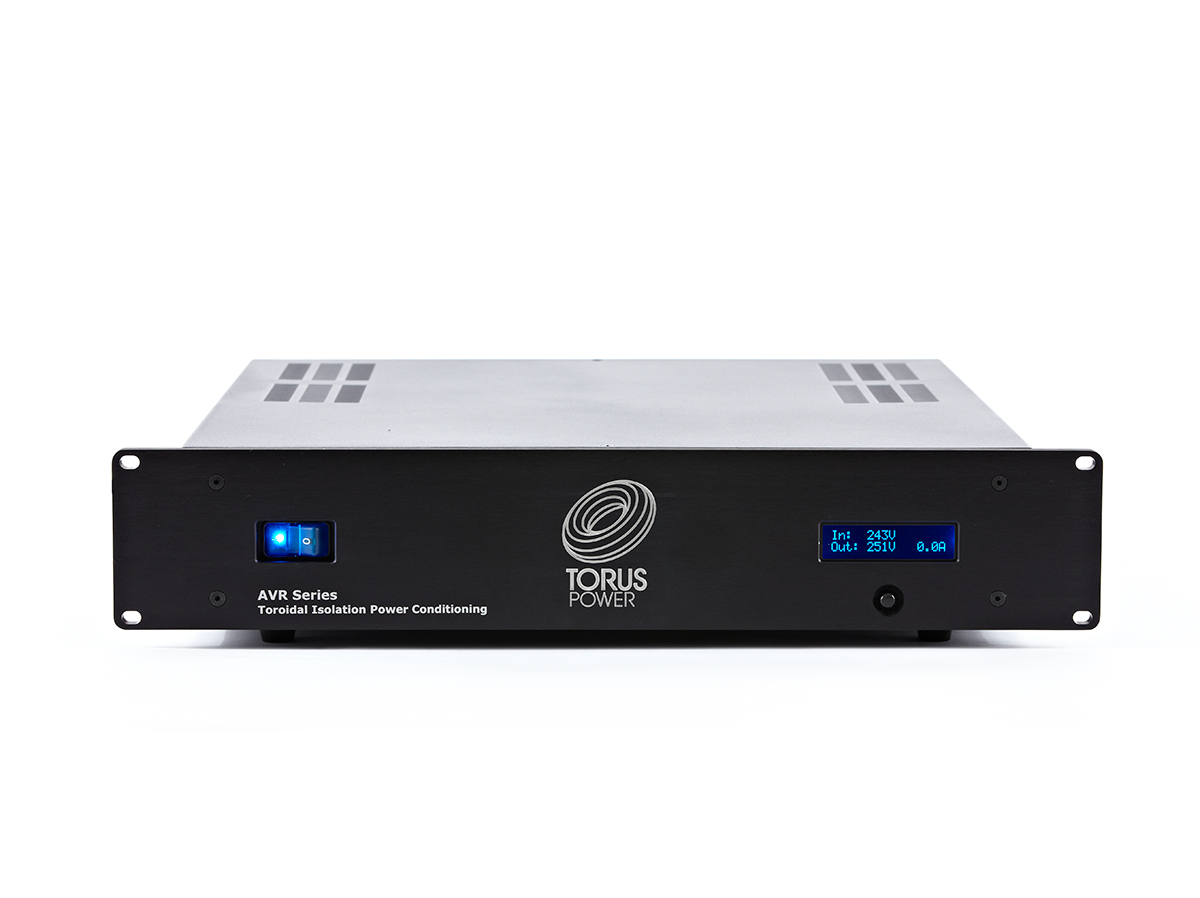 Review By Brett Rudolph The saying goes that a system is only as strong as its weakest link. However, while most people might consider that when planning and evaluating an audio or even audio/video system, very few of them would ponder that the power used in the system itself might actually be one of the weakest links. In a very informal poll of people, most of them mentioned that the only concern they have with power is that there might be a surge and so they would likely use a surge protector in their system.
Unfortunately those that do not consider power to be a consideration in their system would be woefully wrong. Consider the following example. Imagine yourself in a beautiful meadow with a stream filling the air with sounds of flowing water and the birds chirping softly in the background. The colors are vibrant and brilliant and everything seems to fit perfectly into a montage of the "perfect" surroundings. Yet as you are sitting there enjoying the scenery and listening to nature's sounds, every once in a while there seems to be a slight fog that comes and goes, maybe not quite enough to obscure the meadow, but certainly enough for you to notice. At the same time you can hear a slight ringing in your ears, like a fly off in the near distance, the sound tends to increase and decrease for no apparent reason as there is nothing to really make the sound. This is the sort of thing that happens when things are not entirely in tune.
The same can be heard when listening to music, especially when consider more and more revealing audio systems. Take for example you are at home listening to a piece of music that you thoroughly enjoy. The music is somewhat low and there seems to be something that changes. Perhaps it's a slight hum or the orchestral music that normally has a huge dynamic range seems to be somewhat compressed. Yet, as you are listening to the music, you notice that this "trouble" disappears and then reappears almost without any seemingly logical explanation. One reason for this could be that the power that you believe to be the 120 Volts in the United States or 220 Volts elsewhere in the world is not flawless. Perhaps it's the middle of the summer and you have your air conditioner running, the lights in the room are on, someone is using a hair dryer somewhere in your house, in maybe in the next house. The result is that many things might happen including a substantial decrease or increase in the voltage your system is receiving or the addition of noise from any number of sources including those mentioned above. Whatever the case, suddenly the power has now become one of the weakest links in your system.
One Cure
Luckily there are ways to offset or completely eradicate these problems from your system. One such way is with a power transformer such as the Torus CS 15 AVR. This unit from Torus Power offers not only the obvious protection from catastrophic surges which can destroy electronic equipment, but the less obvious and more incessant problems of sudden voltage increases and decreases. It also offers isolation from noise that is present on nearly in nearly every power configuration, even those on their own circuit. The CS 15 AVR is not unique in its ability to provide these additional methods of insuring the best reproduction from your system. However, it does feature some rather unique ways to combat these problems as well as some features that make the unit function quite effectively in a variety of different configurations depending on your individual setup.
What Happens On The Inside
The first is that it utilizes an automatic voltage stabilizer to maintain output to your equipment to within +/- 5 volts of what should be the "standard" 120V coming from your electrical socket, it will accept incoming power from 85V to 135V according to its specifications. This means that your system is not suddenly lacking power because your air conditioning has turned on, or there is a slight brown out within your area. While this might seem like fluff imagine you're listening to a full orchestra and pushing your amplifier to its limits and suddenly the amount of power it's receiving is decreased substantially. The result is likely to be a sudden somewhat unexplained decrease in the overall sound, perhaps even causing your amplifier to clip as it struggles to reproduce things in the most correct manner possible.
The second feature of the CS 15 AVR is a Toroidal Isolation Transformer. This completes the ability to isolate the incoming power making it possible to attenuation of noise from 2 kHz to 1 MHz. Once again imagine that you are listening to you are listening ro your music and there seems to be something not quite right with it. This could be cause by something as simple as a light causing noise which is subtlety changing the tonal qualities you have come to expect from your system. Another example could be that you have a refrigerator which is adding noise to the line creating a less than desirable effect on your listening experience.
The third feature of the CS 15 AVR is its ability to remove surges as mentioned above. It can protect against surges from lightening or other sources up to 6000 Volts and/or 300 Amperes according to the specifications. It also uses series mode technology so it does not contaminate the ground.
The CS 15 AVR is also somewhat unique in that it offers the ability to connect an wired Ethernet network. While not necessary for the operation of the unit, it does add some functionality which would otherwise have to be done manually or with an external controller. The setup is extremely easy, all you need to do is connect an Ethernet cable to the unit's input and depending on your network, it will automatically assign itself an IP address. After that it's merely a matter of opening a browser and you can control the front panel lighting, turn the unit's power on or off, indicate if you want the unit to turn off in case of an extremely abnormal voltage increase or decrease and even monitor the unit's incoming and outgoing voltage as well as amperage. The unit in this evaluation was designed for 15 Amps, but they make a 20 Ampere version as well.
On The Outside
torus_power_cs15_avr_rearOn the front of the CS 15 AVR is a power switch and a panel which displays the same information you can get through the network interface. It shows the input and output voltage as well as the current amperage being drawn from the unit. A small button below the display allows you to find out what the IP address has been set to so you can quickly open a browser if you should wish to monitor the unit away from the front panel. In the case of a serious voltage overage or underage, it will show a warning and will down the outlets if configured to do so in the settings. On the rear of the unit, there are five duplex medical grade receptacles offering ten individual outlets. It has an RS232 connection for access to automation and external control, and two 12V triggers, one for On/Off and the other for Fault Output. Finally it has a detachable power cord should you wish to use a different cable.
The Evaluation
After allowing the unit to break in for about 200 hours, I placed it into my reference system. My power is fairly stable; however, I always use some sort of power stabilizer. However, before evaluating this unit I removed it to see what the difference would be between the "typical" surge protector/power strip and the CS 15 AVR. Interesting in my first round of listening I found that the difference between using the component and not was not nearly as audible as might have been expected. The most notable changes were when listening to orchestral works where the system was somewhat forced to its limits. There were times where the sound seemed to become somewhat muddied, but only when listened to with the most critical ear. However, the unit had the input voltage well within the +/- 5 Volts.
On the second round of testing, not only was a CD player used, but a turntable as well. It was here that the differences became far more noticeable. On Pink Floyd's Dark Side of The Moon, you could definitely hear a change in the lower bass, partially because of a ground problem that became more evident, but also because things seemed much clearer. In addition, it seemed that the music had a constant tempo where it was subtly different without the CS 15 AVR in place. After listening to it on vinyl, I listened to it once again on my CD player and while there seemed to be somewhat less of a change, it was definitely present. In fact, there seemed to be even more detail when using the CS 15 AVR than with my reference power transformer.
It was on the third and final round of evaluation that the CS 15 AWR B really shined. This summer has been extremely hot so far and needless to say the air conditioning runs nearly constantly. Without the CS 15 AVR in place listening to Mozart: Piano Concertos 17 & 20 played Leif Ove Andsnes one EMI's record label lacked the vitality and exuberance that I have come to expect from the CD. In addition there was definite noise that detracted from the overall sound quality that would normally be heard. Interestingly the CS 15 AVR's front panel display indicated that the input voltage was between 113V and 115V, something that normally does not happen. However, the moment I put the unit back in place all of this disappeared and once again the might of the piano concertos could be heard.
The Verdict
In short, the unit itself is extremely well designed both inside and out. It does not require much to install and can be used in a variety of configurations depending on your individual situation and system. It even comes in two colors to fit better in your system and a rack mounted version is available as well. Although a good portion of the time it tends to have less auditory impact then perhaps a new amplifier might in a system, which does not mean it is any less important. As mentioned earlier, a system is only as good as its weakest link, and while one might believe power is not usually a weak link, all you really need to do is remove a power transformer such as this one from your system to find out how wrong you could be.
In addition, the Ethernet, front display panel, and the ability to integrate it into externally controlled systems makes it a perfect fit for nearly all systems. The only downside I found was that the receptacles are not isolated from one another as in other unites. While it did not impact my system, I really did not have any "noisy" equipment on hand to see if there would be some sort of bleed through. Overall, I would definitely recommend giving the Torus Power CS 15 AVR a chance in your system to see just how much difference it will make. Although at $3000 it is not inexpensive. It is doubtful you will be willing to take it out once you have.
Specifications
Type: Automatic Voltage Regulator/Power Isolation Component
Input Voltage Range: 85 to 135 VAC
Frequency Range: 57 to 63 Hz
Input Current Limiting: 15 Ampere Circuit Breaker Front Panel
Input (inlet) connector Rear panel: 15 Ampere inlet
Line Cord (included): 15 Ampere (Type A)
Input current rating: 12A
Output Voltage Range: 120 VAC ± 5V
Output Current Limiting: N/A
Output connector: Medical Grade Duplex 15A (Qty 5) 10 Outlets
Suppression: Meets IEEE C62.41-1991: Series mode type;
Built to withstand 6000 volts, 3000 Amperes for 1000 repeats
Noise Reduction: Performs as low pass filter, attenuating noise from 2 kHz to 1 mHz
Attenuation: 12 dB/Octave to 500 kHz.
Interfaces: RS232, Ethernet (10Base-T)
Triggers: Two 12volt
Weight: 46 lbs.
Other:
Front Panel Display
Front Panel Circuit Breaker
Web Based Interface
Price: $3000
Company Information
Torus Power
#8 601 Magnetic Drive
Toronto, ON M3J 3J2
Canada
Voice: (416) 667-8473
E-Mail: jamestanner@bryston.ca
Website: www.toruspower.com