Two installation firms create an epic home theater with a 324-tile LED video wall, $500K worth of video equipment, 200-amps of protected power, and 9.4.4 channels of Dolby Atmos surround in this Arizona home.
When passion overtakes practicality, big things can happen. In the case of this Paradise Valley, Arizona, home, really big things happened in the form of a massive 246-inch (18×10 foot) Digital Projection Radiance LED wall—the largest residential installation of its kind. The homeowner is a fanatic about home theater, so when he purchased this new home, the top priority was a high-performance system with an extreme image that filled the entire front wall.
With that kind of enthusiasm, it took not one but two installation firms to meet the client's desires. The homeowner was an existing client of RevampIT Audio Video, an installation firm based in Scottsdale, Arizona. The room allocated for the home theater–previously a library–was very small, at only 20×15 with a 12-foot ceiling, eliminating the use of a two-piece projection system.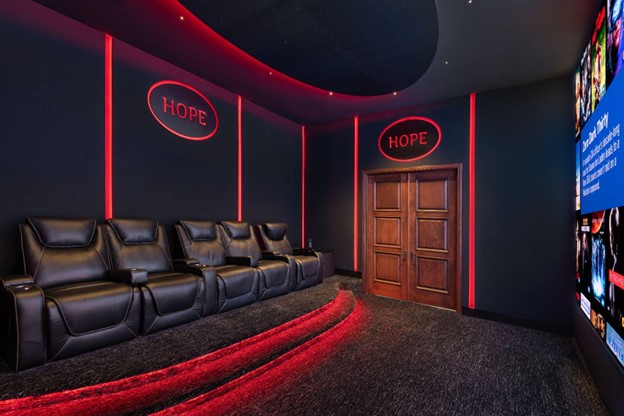 "We simply could not fill the front wall with a traditional projector and screen setup. Even with some very expensive projectors, we were maxing out at about a 220-inch screen size due to the throw distance needed while keeping the quality high. The other issue we were going to run into with the projector, which would have been right above the seating area, is noise," says Jack Thompson, owner of RevampIT Audio Video.
A Tale of Two Installers (And a Builder)
That's when Jack called Ryan Hills, owner of Digital Home Creations in Rochester, New York, whom he'd met years ago through the CEDIA channel. Jack asked Ryan for help with the theater's design, equipment selections, 3D renderings, and CAD Drawings. As the project evolved, Jack invited Ryan to come out to Arizona to be his right-hand man on the technical side. "I knew Ryan was the guy to make it all happen. He is a mentor and has helped me greatly to grow my business and get it to the high-end level," says Jack.
Ryan suggested that instead of a traditional two-piece projection system, they go with a more unconventional method normally seen in commercial video—Radiance LED from Digital Projections (DPI). Radiance is an ultra-bright solution comprised of Micro LED tiles that all fit together seamlessly to make a huge screen wall for vivid imagery.
In this case, the video wall uses a whopping 324 Micro LED tiles to deliver the stunning image.
"Radiance was a great choice because it works impeccably with both short and long viewing distances, making the room's size a nonissue. It was the only way to cover the whole wall with the image quality we wanted considering the limitations we had to work with," says Ryan.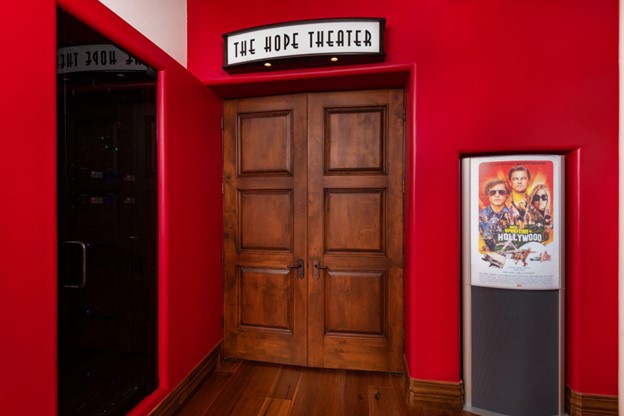 Before they could even think about installing the video wall, however, the room needed to be largely demolished. Jack called in the reinforcements, partnering with Jeremy Scott of Optimum Builders, who was already doing other projects for the homeowner. Jeremy demoed the library's custom cabinets and bookshelves, then built out the room to Jack and Ryan's specs: removing the existing beams on the ceiling, building out the wall for the LED video wall, removing the existing window, building the seating stage, and dealing with all the high-voltage electrical. He also did the build-out for the rack closet and handled painting and carpet installation.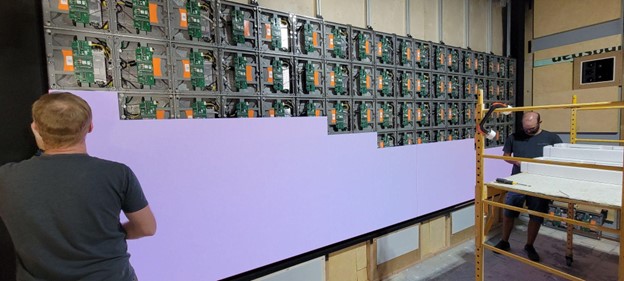 Powering the Beast
The theater required a dedicated 200-amp electrical service to power it properly. That's enough power for a 3,000-square-foot house! With this much high-end equipment—including the $400K Radiance Wall itself and a commercial-grade $100,000 Analog Way video processor to handle the complex 4K+ video—power-conditioning and protection against nasty voltage events were non-negotiable. The team turned to Torus Power President Kevin Main and Technical Support Specialist Ross Whitney to guide them toward the right power solution.
"With help from Kevin and Ross, the specifications led us to the Torus Power Floor Mount (FM) unit," says Jack. "Protecting a half-million dollars' worth of equipment with a $25K Torus Power was well worth the expense."
"The massive Torus Power isolation transformer not only protects the whole system, but it also makes it sound and look better," says Ryan. "It is cleaning the power for less noise on the line and therefore better audio and video, no question. When we do projects without a Torus Power unit and it's added later on to a system, there is always a noticeable improvement in audio quality, a tightness of bass, and even the components run cooler because they are being supplied with clean power."
After demo and construction were completed and a solid power foundation added, the DPI Radiance Wall was installed, pumping out a bright, high-resolution, incredibly lifelike image from content served up by Kaleidescape. "You don't have a theater without Kaleidescape," says Jack.
What it also pumped out, however, was a fair bit of radiant heat!
"In a bright white sunny scene or an orange and white explosion, you can feel the heat, it's almost like a 4D experience!" says Ryan. To combat the heat, Jeremy outfitted the room with dedicated cooling and ventilation that runs 24/7!
9.4.4 Channels of Awesome
With video that impressive, the home theater's audio had to be equally up to snuff, making the audience's bones rattle and jaws drop. The room's complement of James Loudspeakers QX in-wall speakers and JL Audio Fathom subwoofers are up to the task, all fully wired with AudioQuest Extreme in-wall speaker cable and powered by an Acurus Act 4 processor and Acurus A series amps. The resulting immersive 9.4.4 Dolby Atmos experience is something that will save the homeowner lots of money on the cost of commercial movie theater tickets.
"The client said it sounded better than the movie theater, and it really is a better experience. If you watch a race scene, it feels like you are inside the car moving around the room. It's very intense," says Ryan.
The room is treated with Kinetics Noise Control acoustical solutions and sound treatments, which help to dial in the room's audio to another level of awesome. Speakers and acoustical materials are hidden behind custom-built fabric panels.
Bringing the ambiance is a Kinetics Noise Control fiber-optic starfield ceiling, American Lighting (DMX-controlled) LEDs, and Apure Architectural Lighting, all of which can be controlled from the estate-wide Crestron Control system.
Sometimes, it takes a village to create a successful outcome, especially when that outcome is over-the-top performance fueled by passion. The collaboration between RevampIT Audio Video, Digital Home Creations, Optimum Builders, and the homeowner created that successful outcome. This highly engineered extreme home theater delivers a larger-than-life, ultra-bright 246-inch video display that fills the front wall with a breathtaking image, a sound system that's the envy of the neighborhood, and an experience that the homeowner will enjoy for years to come.
"Our client says he loves his theater so much that he spends more time in there than any other room in his house," says Jack.